This post is sponsored by AllModern, but all views and opinions shared in this post are my own.
Who doesn't love a style that has stood the test of time?! I feel like mid-century modern style has always been a part of interior design. They are pieces that blend well with many other design styles! I personally have several mid-century modern pieces scattered throughout our home.
I decided to add two new nightstands to our guest bedroom. I added them to our guest bedroom which had more of a modern, cozy feel and they looked great!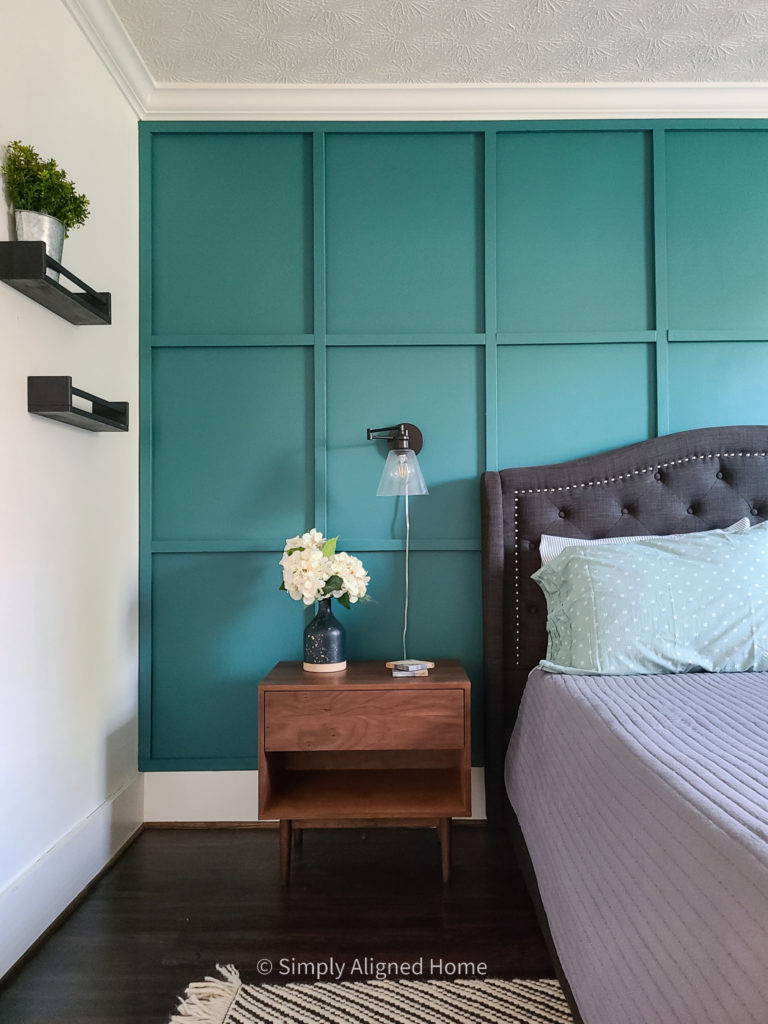 If you've been following along, you know that I cannot just change one thing in a room. These beautiful nightstands triggered a whole guest bedroom makeover!
New Accent Wall
While I loved the dark accent wall, I wanted to create a bright and airy space. Our guest bedroom doesn't get much natural light and I wanted to lighten it up a bit!
I opted for a more modern design on the wall and painted it all a nice, warm white. The mid-century modern nightstands really pop against the white wall!
Erick 1 Drawer Nightstands
Let's talk about these beautiful Erick 1 Drawer Nightstands! I really love the clean design and warm wood finish, but my favorite part is definitely the tapered legs! Tapered legs always draw me in…they add character to any piece of furniture, while keeping it sleek and simple. I've even added them to some of my other furniture
I love the size of them as well as the fact that they have a drawer and a shelf. The nightstands I had in the guest bedroom before were really shallow with three small drawers. There was very little room for guests to set anything on them.
I don't know about you, but when I stay overnight, I do not put my things in drawers. That's a sure way for me to leave things behind.. Guests now have even more space to store their belongings with the lower shelf! These really are great little nightstands!!
The Finished Space
I went very simple with the accent wall so that I could change up the feel of the room with the decor and linens. The modern white accent wall was the perfect backdrop for the rest of the room!
My goal for our guest bedroom was to make it bright and airy, yet cozy and welcoming. I always want our guests to feel like this little space of our home is their own. The nightstands set the tone for the room and the decor followed.
Many of the rooms in my home are very modern with black and white decor with hints of green. I wanted to add a pop of color and warmth to the guest bedroom. This blush quilt was great! I found the perfect rug to go with it!
Another feature of mid-century modern design is bringing the outside indoors. I always love to add greenery to my spaces and this room was no exception. I added stems and a small wreath to finish everything off!
Whether you're looking for a piece to blend in with your existing decor or want a bold piece that stands out…mid-century modern is the way to go! AllModern is definitely my go-to for mid-century modern furniture and decor!!